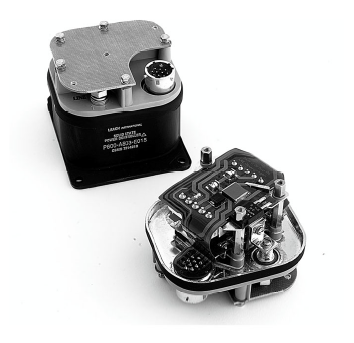 P600 Solid State Power Controller
The P600 Solid State Power Controller (SSPC) is a fully rated 80 Ampere device available for use in today's and tomorrow's Power Systems.
This LEACH SSPC features reliable trouble free switching together with real short circuit protection. Load current is sensed and shutdown initiated within microseconds. Two status signals, derived from the load current value and from the device gate, are reported via optical isolators.
Employing a Power FET output stage, and by using thick film technology, this device offers low power dissipation, high off state impedance, low on state resistance and low on state voltage drop. Designed to operate in 28 VDC systems, this device does not require derating for any load type. These features, together with this high reliability, make it ideal for Power System applications.
FEATURES
Power FET output
Low voltage drop (150 mV)
Built-in overload and short circuit protection
Trip-free characteristics
Status indictor
Trip indicator
Optically isolated (500 Vrms)
Full rated current up to 71° C
Fast response