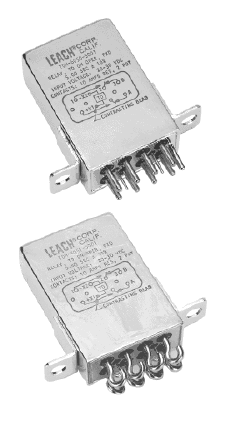 TDH-6050/6051 Control Device
The TDH-6050/51 Time Delay Relays have been designed with thick film hybrid microelectronics timing circuits and
MIL-PRF-6106 relays, packaged in a hermetically sealed military style enclosure. The TDH-6050/51 series are designed
to withstand severe environmental conditions encountered in military/aerospace applications. These relays are suited for use in power control, communication circuits and many other applications where power switching and high reliability are required over a wide temperature range.
Small size and weight
High-reliability design
Hermetically sealed
High transient immunity
Long life
Low-power consumption
Reverse Polarity Protection
PRINCIPLE TECHNICAL CHARACTERISTICS
Seal: Hermetically Tested per MIL-STD-883, Method 1014 1×10-6 atm, cm3/s max leakage
Finish: Tin/lead Plate
Terminals: TDH 6051 (Tin Lead Plate) Solder-lug TDH 6050 (Gold Plate) Plug-In
Weight 1.9 oz. MAX