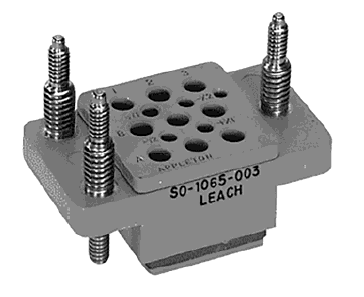 SO-1065-003 Relay Socket
Basic socket series designation for Series YCL
Designed to the standards and requirements of MIL-DTL-12883/46
GENERAL CHARACTERISTICS
Supplied with mounting hardware No. 16 contacts, and No. 16 crimp for power terminals; No. 20 contacts, No. 20 crimp for coil terminals.
Standard tolerances .xx ±.01; xxx ± .005
Weight .055 lbs. max
Operating temperature -65° C to +125° C
Special track and module system available. Please contact factory. See SM-1001-003.